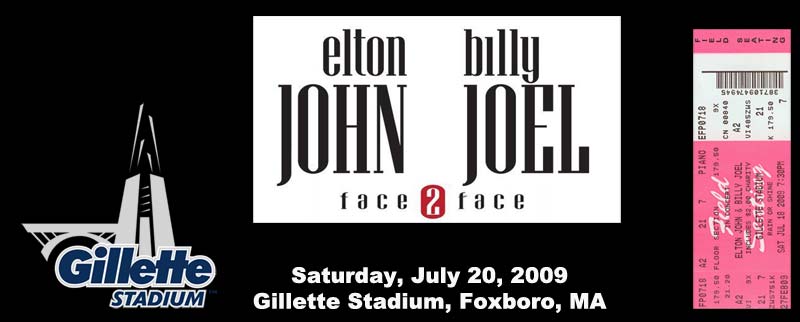 "Click" on most thumbnail pictures to open a larger picture.
To make the larger picture even larger, put your cursor over the picture and "click" again.
Updated 8/9/09
Elton John and Billy Joel reunited for their Face 2 Face tour at Gillette Stadium. It was their only New England appearance of 2009.
A capacity crowd filled Gillette Stadium.

Steve and Paulette about an hour before the show.

Above is part of the crowd behind our seats.

Each member of the engineering crew climbs a rope ladder to get to their post above the stage.

Center Stage

Members of the lighting and sound crew are located above the stage.

Elton John and Billy Joel opened the concert with a series of duets, playing twin pianos and trading vocals.

Each artist performed with his own band.

Elton John played for about an hour.

Billy Joel played for about an hour.

A grand finale brought the two superstars and their supporting musicians back together for a closing encore.

Pat and Lou Guevin enjoy the show.

Read the review of the show by clicking

here

.

"Click" on the review to make it larger.

Thanks Louie!
Videos of the show


After "clicking,"please wait for the video to download.

To view
The crowd at Gillette Stadium
Click Here. Download time est. 30 seconds
To view
Elton John: Crockadile Rock
Click Here. Download time est. 2 minutes
To view
Billy Joel: We Didn't Start The Fire
Click Here. Download time est. 3 minutes
To view
Billy Joel and Elton John: Uptown Girl
Click Here. Download time est. 2 minutes
To view
Billy Joel and Elton John: Final Applause
Click Here. Download time est. 30 seconds